Grant's atlas of anatomy - Anne M.R. Agur, Arthur F. Dalley II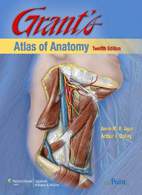 Год выпуска: 2009

Автор: Anne M.R. Agur, Arthur F. Dalley II

Жанр: Анатомия

Формат: PDF

Качество: OCR

Описание: All of these developments have shaped the vision and directed the execution of this twelfth edition of Grant's Atlas, as evidenced by the following key features:
Classic "Grant's" images updated for today's students. A unique feature of Grant's Atlas is that, rather than providing an idealized view of human anatomy, the classic illustrations represent actual dissections that the student can directly compare with specimens in the lab. Because the original models used for these illustrations were real cadavers, the accuracy of these illustrations is unparalleled, offering students the best introduction to anatomy possible. Over the years we have made many changes to the illustrations to match the shifting expectations of students, adding more vibrant colors and updating the style from the original carbon-dust renderings. In this edition, at the suggestion of reviewers, we have continued this trend by introducing more lifelike skin tones to provide a more realistic—but no less accurate--depiction of anatomy. In addition, almost all of these dissection figures were carefully analyzed to ensure that label placement remained effective and that the illustration's relevance was still clear. Almost every figure in this edition of Grant's Atlas was altered, from simple label changes to full-scale revision.
Schematic illustrations to facilitate learning. Full-color schematic illustrations supplement the dissection figures to clarify anatomical concepts, show the relationships of structures, and give an overview of the body region being studied. Many new schematic illustrations have been added to this edition; others have been revised to refine their pedagogical aspects. All conform to Dr. Grant's admonition to "keep it simple": extraneous labels were deleted, and some labels were added to identify key structures and make the illustrations as useful as possible to students. In addition, many new, simple orientation drawings were added for ease of identifying dissected regions.
Legends with easy-to find clinical applications. Admittedly, artwork is the focus of any atlas; however, the Grant's legends have long been considered a unique and valuable feature of the Atlas.
The observations and comments that accompany the illustrations draw attention to salient points and significant structures that might otherwise escape notice. Their purpose is to interpret the illustrations without providing exhaustive description. Readability, clarity, and practicality were emphasized in the editing of this edition. For the first time, clinical comments, which deliver practical "pearls" that link anatomic features with their significance in health care practice, are highlighted in blue within the figure legends. The clinical comments have also been expanded in this edition, providing even more relevance for students searching for medical application of anatomical concepts.
Enhanced diagnostic and surface anatomy and images. Because medical imaging have taken on increased importance in the diagnosis and treatment of injuries and illnesses, diagnostic images are used liberally throughout the chapters, and a special imaging section appears at the end of each chapter. Over 100 clinically relevant magnetic resonance images (MRIs), computed tomography (CT) scans, ultrasound scans, and corresponding orientation drawings are included in this edition. We have also increased the number of labeled surface anatomy photographs and introduced greater ethnic diversity in the surface anatomy representations.
Tables—updated, expanded, and improved. Another feature unique to Grant's Atlas is the use of tables to help students organize complex information in an easy-to-use format ideal for review and study. The eleventh edition saw the introduction of muscle tables. In this edition, we have expanded the tables to include those for nerves, arteries, veins, and other relevant structures. The table format in this edition also received a substantial update; a consistent color code is used to clearly demarcate columns. Many tables are also strategically placed on the same page as the illustrations that demonstrate the structures listed in the tables.
Logical organization and layout. The organization and layout of the Atlas has always been determined with ease-of-use as the goal. Although the basic organization by body region was maintained in this edition, the order of plates within every chapter was scrutinized to ensure that it is logical and pedagogically effective. Sections within each chapter further organize the region into discrete subregions; these subregions appear as "titles" on the pages. Readers need only glance at these titles to orient themselves to the region and subregion that the figures on the page belong to. All sections also appear as a "table of contents" on the first page of each chapter.
Helpful learning and teaching tools. For the first time in its history, the twelfth edition of Grant's Atlas offers a wide range of electronic ancillaries for both student and teacher on Lippincott Williams & Wilkins' online ancillary site "thePoint" (http://thepoint.lww.com/grantsatlas). Students are given access to an interactive electronic atlas containing all of the atlas images with full search capabilities as well as zoom and compare features, as well as selected video clips from the best-selling Acland's DVD Atlas of Human Anatomy collection. Students can test themselves with 300 multiple choice questions, 95 "drag-and-drop" labeling exercises, and a sampling of Clinical Anatomy Flash Cards. For instructors, electronic ancillaries include an interactive atlas with slideshow and image-export functions, an image bank, and selected "dissection sequences" of plates.
We hope that you enjoy using this twelfth edition of Grant's Atlas and that it becomes a trusted partner in your educational experience. We believe that this new edition safeguards the Atlas's historical strengths while enhancing its usefulness to today's students.

Anne M.R. Agur Arthur F. Dalley II
Книги на английском