Clinical Anatomy: Applied Anatomy for Students and Junior Doctors - Harold Ellis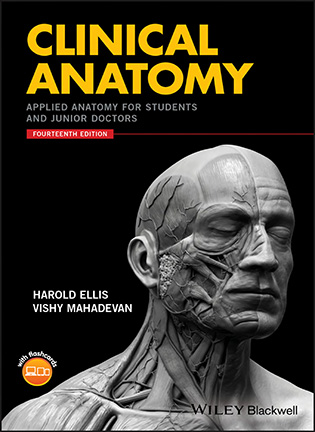 Год выпуска
: 2018
Автор
: Harold Ellis, Vishy Mahadevan
Жанр
: Книги на английском
Формат
: PDF
Качество
: OCR
Описание: Experience of teaching clinical students at three medical schools has convinced me that there is still an unfortunate hiatus between the anatomy which the student learns in his pre-clinical years and that which he later encounters in the wards and operating theatres.
This book attempts to bridge this gap. It does so by high-lighting those features of anatomy which are of clinical importance, in medicine and midwifery as well as in surgery. It presents the facts which a student might reasonably be expected to carry with him during his years on the wards, through final examinations and into his post-graduate years; it is designed for the clinical student.
Anatomy is a vast subject and therefore, in order to achieve this goal, I have deliberately carried out a rigorous selection of material so as to cover only those of its thousands of facts which I consider form the necessary anatomical scaffolding for the clinician. Wherever possible practical applications are indicated throughout the text - they cannot, within the limitations of a book of this size, be exhaustive, but I hope that they will act as signposts to the student and indicate how many clinical phenomena can be understood and remembered on simple anatomical grounds.
---
Preface to the Fourteenth Edition Clinical Anatomy
As a teacher of medical students and surgical trainees, I know that much of clinical examination and diagnosis depends on an adequate knowledge of anatomy. No matter how good the doctors are at communication skills and patient empathy, unless they know what lies beneath their examining fingers or under the bell of their stethoscopes, they will have great difficulty in the interpretation of clinical signs. Understanding and interpreting the exquisite details of modern radiological imaging also requires a good knowledge of the structure of the human body.
This was true over 55 years ago when I wrote the first edition of this book, and is perhaps even more so today, when the content of anatomical knowledge in the medical student's curriculum has been greatly reduced.
Over these many years, during which time I have taught students and postgraduates in five medical schools, and examined them in eight countries and sixteen universities, my belief in the importance of an adequate knowledge of anatomy as an adjunct to clinical training has been strongly reinforced.
In the preparation of the 12th edition (Golden Jubilee edition) and the subsequent two editions (including this one), I have been fortunate indeed in having been able to recruit Professor Vishy Mahadevan, the Barbers' Company Professor of Anatomy at the Royal College of Surgeons of England, as co-author. He is a renowned and revered teacher of surgical trainees as well as being a current examiner in the MRCS and in overseas medical schools. Together, in this new edition, we have carried out a careful revision and updating of the text and diagrams.
We hope that this book will continue to help our students and postgraduate trainees throughout the English-speaking world.
Книги на английском