Motility in Osteopathy: From embryology to clinical practice - Alain Auberville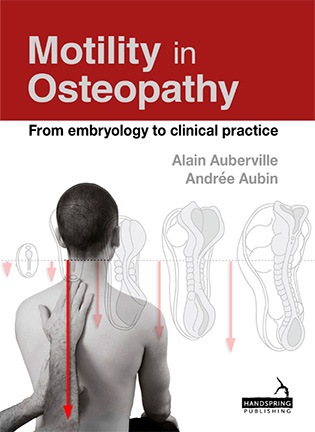 Год выпуска
: 2017
Автор
: Alain Auberville and Andree Aubin
Жанр
: Книги на английском
Формат
: PDF
Качество
: OCR
Описание: It was in 1984–1985 that, newly qualified in osteopathy and studying at the Société Française d'Enseignement et de Recherche en Énergétique (SFERE), I first came across the osteopath and teacher Alain Ripert, who shared with us his ideas on possible relationships between Chinese traditional medicine and embryology, based on chronology and vital energy flow.
Chinese traditional medicine is based on this flow of energy, its movement, and osteopathy's foundation is also movement. During embryogenesis, nearly all of the embryo's structures will move, carried by energy! With these ideas in mind, I wished to find new osteopathic techniques that would make use of the principles of Chinese medicine in my clinical practice. Embryology suits this purpose by combining movement and energy.
I started by looking into embryogenesis and, more precisely, its associated movements, such as the migrations and proliferation of the cells that ultimately make up all the structures of the body, following an unalterable chronology.
The first tests and techniques that I developed based on embryology development were for the digestive system. They have been used on thousands of patients in different clinical contexts, particularly when traditional osteopathic techniques did not deliver the desired results. This intensive use made me realize it was often possible to normalize dysfunctions in a quicker and more efficient way by using these motility techniques. Furthermore, mobility dysfunctions often disappeared following just the motility treatment, implying they were adaptive and not necessarily independent, and that motility could be, in many cases, preferred over mobility.
SFERE had a device to measure electrical potential differences at the acupuncture points, so we were able to verify the positive results of the motility treatment in an objective way, which persuaded me to commit to this approach.
Visceral osteopathy, as taught at SFERE and also in osteopathy schools across Europe and North America, made the development of this concept possible and even helped shape and define it, thanks to the students' insight and questions.
The embryology-based motility concept then expanded to encompass the urogenital and cardiopulmonary systems, with equally interesting results.
At that time, I questioned the variable results of classical diaphragm treatment techniques. Why did some diaphragm dysfunctions react quickly to spheno-occipital synostosis decompression techniques – so quickly that it might imply a neurological action on the pneumotaxic center – when others did not react at all? How could we intervene directly on the superior centers? Were they responsible for the persistence of some of these dysfunctions?
In the late 1980s, these questions led me to apply the energetic motility concept to the autonomic and central nervous systems. Important embryological movements in the midbrain and pontine flexures were my first concern. Working on the neurological field broadened my osteopathic practice, leading to new reasons for consultation and better results for many of the existing reasons for consultation.
To my great satisfaction, these 'neuro' techniques enabled me to lift dysfunctions causing reflex algoneurodystrophy, a painful and disabling condition for which too few effective therapeutic resources exist. The patients who were treated and also I myself were surprised by how effective the treatment of neurological motility losses was and how quickly the patients recovered. Some of them even experienced the remineralization of bones as a consequence of the treatment, which made me realize that the line between structure and function is certainly thinner than their definitions imply. At this time the possibilities for osteopathy expanded for me.
Some long-standing questions about the sacrum remained unanswered: why did its felt movement seem to be much more extensive than its theoretical counterpart, which is supposed to be only a mirror of cranial movement? How to explain the mechanical contradiction in the osteopathic explanation of whiplash? The study of the third and fourth weeks of embryological development, in which the caudal part of the body undergoes a lot of movement – movement named, in this work, caudal plication – gave me some answers. If the fold formed by the unrolling of the inferior part of the embryo was perceivable, and understanding it was able to lead to new treatments, why wouldn't it be the same with the superior part of the body's movements, such as the one that leads the heart to its place in the thorax? This is how, in the early 1980s, the idea of thoracic and caudal plication came to life, and was later refined by clinical experimentation and theoretical analysis.
Working on energy progressively made its way into both my mind and my practice, forming a coherent system the implementation of which followed a clear protocol and chronology based on the steps of human development and on the neurological pathways maintaining physical health. This system might seem to be far from traditional osteopathy at first; however, it follows the basic concept of osteopathic movement and its underlying principles, requiring only a questioning and deepening of knowledge to extend their essence.
The direction of this work evolved through clinical experimentation, discussions with a few enthusiastic colleagues, and mostly thanks to the positive feedback given by successfully treated patients. Some of these cases will be covered briefly in Chapter 10, and illustrate the various potential effects of the proposed techniques. I am thankful to my patients, who taught me so much; their continued trust is my most treasured reward.
I hope you take as much pleasure in the study of this work as I did.
---
Contents
«Motility in Osteopathy»
Theoretical Considerations
Field of practice and basic osteopathic principles
The organism's energetic functions
Embryological motility model
The Sutherland model
Other osteopathic works based on the theory of embryology
Types of pain caused by motility losses
Considerations for palpatory learning
Embryology-Based Motility
Flexion and extension dysfunctions: definitions
Types of motility dysfunction
Evaluation of motility dysfunctions
Normalization of motility dysfunctions
Thoracic and Caudal Plications
Embryological generalities
Motility movements and tests for thoracic and caudal plications
Motility dysfunctions of thoracic and caudal plications
Normalization of thoracic and caudal plications
Motility movement and test of lateral plications
Motility dysfunction of lateral plications
Normalization of the lateral plications
Links with traditional Chinese medicine
Osteopathic considerations
Nervous System
Embryological generalities
First neural tube fold

Embryological movement
Motility movement and test
Motility dysfunction
Normalization
Osteopathic considerations

Third neural tube fold

Embryological movement
Motility movement and test
Motility dysfunction
Normalization
Osteopathic considerations
Osteopathic considerations for combined first - and third-fold work

Parasympathetic component of the first fold: lateral expansion

Embryological movement
Motility movement and test
Motility dysfunction
Normalization
Osteopathic considerations

Tentorium cerebelli
Cranial nerve nuclei and cerebellum

Cranial nerve nuclei

Embryological movement
Motility movement and test
Motility dysfunction
Normalization

Cerebellum

Embryological movement
Motility movement and test
Motility dysfunction
Normalization
Osteopathic considerations

Medulla oblongata, spinal cord, neural crest, and ganglia

General embryological movement of the spinal cord
Spinal cord

Motility movement and test
Motility dysfunction
Normalization
Osteopathic considerations

Medulla oblongata

Motility movement and test
Motility dysfunction
Normalization

Neural crest and ganglia

Embryological movement
Motility movement and test
Motility dysfunction
Normalization
Osteopathic considerations

Nerve plexuses

Embryological movement
Motility movement and test
Motility dysfunction
Normalization
Osteopathic considerations

Central nervous system: cerebral hemispheres

Embryological movement
Motility movement and test
Motility dysfunction
Normalization
Osteopathic considerations
Further considerations
Psychoneuroimmune-Endocrine System
Endocrine System

Hypophysis

Embryological movement
Motility movement and test
Motility dysfunction
Normalization
Osteopathic considerations

Pineal gland (epiphysis cerebri)

Embryological movement
Motility movement and test
Motility dysfunction
Normalization
Osteopathic considerations

Thyroid

Embryological movement
Motility movement and test
Motility dysfunction
Normalization
Osteopathic considerations

Immune system

Thymus

Embryological movement
Motility movement and test
Motility dysfunction
Normalization
Osteopathic considerations

Spleen

Embryological movement
Motility movement and test
Motility dysfunction
Normalization
Links with traditional Chinese medicine
Osteopathic considerations
Cardiopulmonary System
Embryological generalities
Heart, and serous and fibrous pericardia

Embryological movement
Motility movement and test
Motility dysfunction
Normalization
Links with traditional Chinese medicine
Osteopathic considerations

Pulmonary system

Embryological movement
Lungs

Motility movement and test
Motility dysfunction
Normalization
Links with traditional Chinese medicine

Pleurae

Motility movement and test
Motility dysfunction
Normalization
Osteopathic considerations
Digestive System
Embryological generalities
Neurological regulation of the intestinal tract

Segmental vertebral/costal level
Links with the cranial base and the jugular foramen
Links with the sacrum
Walls of the viscera and organs

Esophagus

Embryological movement
Motility movement and test
Motility dysfunction
Normalization
Links with traditional Chinese medicine
Osteopathic considerations

Stomach

Embryological movement
Motility movement and test
Motility dysfunction
Normalization
Links with traditional Chinese medicine
Osteopathic considerations

Liver

Embryological movement
Motility movement and test
Motility dysfunction
Normalization
Links with traditional Chinese medicine
Osteopathic considerations

Duodenum

Embryological movement
Motility movement and test
Motility dysfunction
Normalization
Links with traditional Chinese medicine
Osteopathic considerations

Gallbladder, upper and lower bile ducts, and exocrine pancreas

Embryological movement
Motility movement and test
Motility dysfunction
Normalization
Links with traditional Chinese medicine
Osteopathic considerations

Endocrine pancreas

Embryological movement
Motility movement and test
Motility dysfunction
Normalization
Links with traditional Chinese medicine
Osteopathic considerations

Small intestine

Embryological movement
Motility movement and test
Motility dysfunction
Normalization
Links with traditional Chinese medicine
Osteopathic considerations

Colon

Embryological movement
Motility movement and test
Motility dysfunction
Normalization
Links with traditional Chinese medicine
Osteopathic considerations
Urogenital System
Embryological generalities
Urology

Kidney

Embryological movement
Motility movement of the definitive kidney and test
Motility dysfunction
Normalization
Motility movement of the first and second kidneys and test
Motility dysfunction
Normalization
Links with traditional Chinese medicine
Osteopathic considerations

Bladder

Embryological movement
Motility movement and test
Motility dysfunction
Normalization
Links with traditional Chinese medicine
Osteopathic considerations

Ureters

Genital organs

Embryological generalities
Uterus

Embryological movement
Motility movement and test
Motility dysfunction
Normalization
Links with traditional Chinese medicine
Osteopathic considerations

Gonads: ovaries and testicles

Embryological movement
Motility movement and test
Motility dysfunction
Normalization
Osteopathic considerations

Prostate

Motility movement and test
Motility dysfunction
Osteopathic considerations
Musculoskeletal System
Embryological generalities

Vertebral column and ribs
Limbs

General vertebral column, notochord, and vertebral segments

Motility movement and test
Motility dysfunction
Normalization
Osteopathic considerations

Ribs

Motility movement and test
Motility dysfunction
Normalization
Osteopathic considerations

Upper limb

Motility movement and test
Motility dysfunctions
Normalization
Osteopathic considerations

Lower limb

Motility movement and test
Motility dysfunction
Normalization
Osteopathic considerations

Cranial bones
Clinical Intervention Protocol for the Motility Model
The first three steps of the protocol
Reasons for consultation: musculoskeletal system
Reasons for consultation: visceral sphere
Reasons for consultation: cranial field
Index
Книги на английском