Acupuncture in Manual Therapy - Jennie Longbottom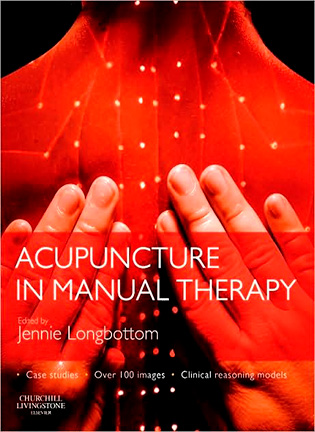 Год выпуска
: 2010
Автор
: Jennie Longbottom
Жанр
: Книги на английском
Формат
: PDF
Качество
: OCR
Описание: This book is primarily written for physiotherapists who use manual skills and acupuncture as an integrated approach to pain management and the facilitation of rehabilitation in musculoskeletal dysfunction. This book has brought together a number of manual therapy experts who have provided the reader with current evidence, and best available practice, for the management of a variety of musculoskeletal conditions affecting various joints of the body.
Physiotherapists working extensively in these areas and students undertaking the Acupuncture Association of Chartered Physiotherapists (AACP) Foundation training course have supplied the acupuncture text. This text has not involved an in depth account of traditional Chinese medical theory, not because of preference or neglect, but because this has been more than adequately covered by a number of excellent well-informed texts previously published. The book emphasizes clinical reasoning, which is a fundamental necessity in all physiotherapy care and in the philosophy of Chinese medicine. Without it we offer nothing more than a point-specific protocol, which will serve to reduce the efficacy, accuracy, and effectiveness of acupuncture intervention.
The addition of acupuncture within my treatment toolbox has not only enhanced my manual skills, but has facilitated a holistic approach to patient management. It has challenged my training and beliefs, informed, complimented, and at times, confused my physiotherapy reasoning, but at all times it has fascinated and enhanced my clinical knowledge ... and continues to do so.
Acknowledgements
I thank all those who have contributed to the development of this book. Each person has offered a wealth of specialized knowledge within manual therapy and acupuncture. As a result, I have learnt from their knowledge, as I hope you will. I would also like to thank those inspirational teachers who brought acupuncture into my clinical management; how did I ever survive without it?
I particularly thank those who have made an incredible impact on my clinical skills during my professional journey: Ann Green, Dr Jeremy Lewis, Alison Middleditch, Mark Johnson to name but a few. I will particularly remember Gill Hughes, whose initial guidance and support to me as a junior physiotherapist made me the clinician I am today. To Andrew Wilson for his professional editing services and who has taught me to proof-read. My sincere thanks to Mark Charboneau, Graphic Designer, St Neots, who provided the art work and inspiration for the cover.
I thank all those students who contributed through their hard work with case studies, and who teach me something new on each course I provide. For Hayley, Myrtle, and John who have listened to my constant doubts and supported me throughout.
Книги на английском