Endocrine Surgery in Children - Daniel J. Ledbetter, Paul R.V. Johnson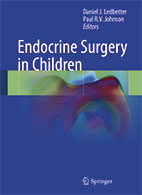 Год выпуска
: 2018
Автор
: Daniel J. Ledbetter, Paul R.V. Johnson
Жанр
: Хирургия
Формат
: DjVu
Качество
: Отсканированные страницы
Описание: Endocrine surgical conditions during childhood are relatively rare. However, they represent an interesting and challenging group of conditions that all pediatric surgeons will encounter sometime during their careers. This book is one of the first to provide a specific overview of the range of different endocrine surgical conditions encountered in children, together with their management. It is aimed at any surgeon operating on endocrine conditions in children and adolescents.
The book is divided into sections based on the different endocrine organs. Each section begins with a chapter outlining the embryology, anatomy, and physiology of that organ, before subsequent chapters address the different surgical conditions that occur, together with their diagnosis, management, and outcomes. Basic science and state-of-the-art research perspectives are included as they relate to surgical decision-making and optimal clinical care. We have intentionally chosen a diverse group of authors who have experience and expertise in caring for children with endocrine surgical conditions in North America and the UK. The authors include endocrinologists, adult endocrine surgeons, and pediatric surgeons, and represent many who are at the forefront of both clinical care and cutting-edge research. One of the key messages that comes out throughout the book is that rare endocrine surgical conditions require a collaborative multidisciplinary team approach to ensure that the children receive the very best management resulting in the most favorable outcomes.
It is our hope that this international, multidisciplinary perspective will give surgeons caring for children with endocrine conditions requiring surgery, additional insights that will lead to a better understanding of the conditions and ultimately improved patient care.
---
Contents
«Endocrine Surgery in Children»
Thyroid
Thyroid Gland Embryology, Anatomy, and Physiology
Hyperthyroidism
Thyroid Nodules in Children
Thyroid Cancer in Children
Parathyroid
Parathyroid Gland Embryology, Anatomy and Physiology
Parathyroid Surgery in Children
Adrenal
Adrenal Gland Embryology, Anatomy, and Physiology
Pheochromocytoma
Neuroblastoma
The Evaluation and Management of Adrenal Masses and Adrenocortical Tumors (Act)
Pancreas
Pancreas Embryology, Anatomy, and Physiology
Congenital Hyperinsulinism
Pancreatic Neuroendocrine Tumours
Islet Cell Transplantation
Diabetes in the Pediatric Surgical Patient
Bariatric Surgery
Assessing and Selecting Patients for Bariatric Surgery
Bariatric Surgery in Children
Ovary, Testicles, and Fertility
Pathogenesis and Treatment of Disorders of Sexual Development
Testis Embryology, Anatomy and Physiology
Surgical Considerations of Testicular Maldescent
Testicular Torsion
Testicular Tumors in Children
Ovarian Embryology, Anatomy, and Physiology Including Normal Menstrual Physiology
Ovarian Tumours in Children
Ovarian Torsion
Fertility Preservation
Breast
Breast Embryology, Anatomy, and Physiology
Paediatric and Adolescent Breast Disorders
Gynecomastia
Miscellaneous
Multiple Endocrine Neoplasia Type 1 and Type 4
Multiple Endocrine Neoplasia Type 2
Pituitary
Pituitary Gland Embryology, Anatomy and Physiology
Surgical Considerations of the Pituitary
купить
 книгу:
Гости не могут просматривать скрытый текст. Для скачивания и просмотра книги необходимо зарегистрироваться на сайте
Книги на английском