Step-Up to USMLE Step 2 CK - Jonathan P. Van Kleunen, Dr. Brian Jenkins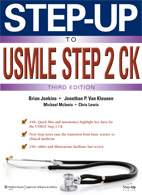 Год выпуска
: 2013
Автор
: Jonathan P. Van Kleunen, Dr. Brian Jenkins
Жанр
: Книги на английском
Формат
: PDF
Качество
: OCR
Описание: Step-Up to USMLE Step 2 CK is your one-stop shop for high-yield, systems-based review during the clinical years of medical school. The third edition packs illustrations, Next Steps, Mnemonics, and Quick Hits in a single, ingenious tool. Each element is tailored for immediate content absorption, and an all-new full-color interior differentiates elements for faster, more efficient review. Plus, Step-Up to USMLE Step 2 CK, third edition provides bonus material and study resources online for additional self-assessment and practice for this exam!
NEW Features for this blockbuster edition:
Full-color, updated interior design brings the content to you in a rousing, memorable style.
Full-color, updated art program illustrates concepts when a picture says it best.
Expanded and new content keeps you current and informed to guide your clinical decision making.
CLASSIC Features students swear by:
Complete coverage of high-yield topics—cause, risk factors, history and physical exam, lab studies or radiology, treatment and complications—ensures you are test ready!
Mnemonics help you "file away" clinical information for handy retrieval at test time!
Quick Hits glimmering in the margins highlight highly testable materials—just see how the sparks fly at test time!
Next Steps margin notes guide you through the workup of a patient with practical tips to success!
---
Contents
Step-Up to USMLE Step 2 CK
Cardiovascular Disorders
Normal Cardiac Anatomy, Physiology, and Function

Ischemic Heart Disease

Arrhythmias

Heart Failure

Valvular Diseases

Cardiomyopathies

Pericardial Diseases

Myocardial Infections

Hypertension (HTN)

Shock

Vascular Diseases

Pediatric Cardiology
Pulmonary Disorders
Measures of Pulmonary Function

Respiratory Infections

Acute Respiratory Distress Syndrome (ARDS)

Obstructive Airway Diseases

Respiratory Neoplasms

Interstitial Lung Diseases and Other Lung Diseases

Vascular and Thromboembolic Pulmonary Conditions

Pleural Diseases

Sleep Apnea

Pulmonary Surgical Concerns

Pediatric Pulmonary Concerns
Gastrointestinal Disorders
Gastrointestinal (GI) Infections

Oral and Esophageal Conditions

Gastric Conditions

Intestinal Conditions

Pancreatic Disorders

Biliary Disorders

Hepatic Disorders

Pediatric GI Disorders
Genitourinary Disorders
Normal Renal Function

Disorders of the Kidney

Glomerular Diseases

Renal Failure

Acid-Base Disorders

Electrolyte Disorders

Bladder and Ureteral Disorders

Male Reproduction

Pediatric Genitourinary Concerns
Endocrine Disorders
Disorders of Glucose Metabolism

Thyroid Disorders

Parathyroid Disorders

Pituitary and Hypothalamic Disorders

Adrenal Disorders

Multiple Endocrine Neoplasia (MEN)

Pediatric Endocrine Concerns
Hematology and Oncology
Anemias

Genetic Disorders of Hemoglobin

Leukocyte Disorders and Hypersensitivity

Clotting Disorders

Hematologic Infections

Hematologic Neoplastic Conditions

Oncologic Therapy

Other Pediatric Hematologic and Oncologic Concerns (Not Addressed in Other Sections)
Selected Topics in Emergency Medicine, Critical Care, and Surgery
EMERGENCY MEDICINE

Accidents and Injury

Toxicology

Cardiovascular Emergencies

Traumatology

Abuse and Sexual Assault

BASIC CRITICAL CARE

Issues in the Intensive Care Unit (ICU)

Hemodynamic Stability

BASIC SURGICAL CONCERNS

Preoperative and Postoperative Issues

Surgical Emergencies

Transplantation
Neurologic Disorders
Normal Neurologic and Neurovascular Function

Neurologic Infection

Headache

Cerebrovascular and Hemorrhagic Diseases

Seizure Disorders

Degenerative Neurologic Disorders

Peripheral Neurologic and Neuromuscular Disorders

Neoplasms

Sleep and Loss of Consciousness

Pediatric Neurologic Issues

Ophthalmology

Audiovestibular Disorders
Musculoskeletal Disorders
Common Adult Orthopedic Conditions

Spine

Metabolic Bone Diseases

Infection

Osteoarthritis (OA)

Rheumatologic Diseases

Neoplasms

Pediatric Orthopedics
Dermatology
Infections

Inflammatory Skin Conditions

Bullous Diseases

Neoplasms

Plastic Surgery
Gynecologic and Breast Disorders
Menstrual Physiology

Contraception

Menstrual Disorders and Issues

Common Gynecologic Infections

Sexually Transmitted Diseases (STDs)

Gynecologic Neoplasms

Disorders of the Breast
Obstetrics
Normal Pregnancy Physiology

Prenatal Care

Medical Complications of Pregnancy

Obstetric Complications of Pregnancy

Labor and Delivery

Gestational Trophoblastic Disease
Pediatrics
Development and Health Supervision

Immune Disorders

Genetic Disorders (Chromosomal Pathology)
Psychiatric Disorders
Psychiatric Evaluation

Mood Disorders

Anxiety Disorders

Psychotic Disorders

Personality Disorders

Substance Abuse

Eating Disorders

Somatoform and Factitious Disorders

Delirium and Dementia

Pediatric Psychiatric Disorders
Epidemiology and Ethics
Research Studies

Biostatistics

Ethics
Книги на английском