Atlas of Emergency Neurosurgery - Ullman J, Raksin P.B.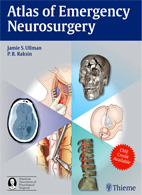 Год выпуска
: 2015
Автор
: Jamie Ullman, Raksin P. B.
Жанр
: Нейрохирургия
Формат
: PDF
Качество
: Отсканированные страницы
Описание: Neurosurgery is not so simple. Drilling bur holes in the emergency department may relieve pressure from an expanding epidural hematoma, but the ensuing uncontrolled arterial bleeding may result in signi ficant blood loss, hypotension, and death if one is not skilled in handling this situation. And, although trauma may be one of the more common reasons for emergent neurosurgical intervention, acute care for neurosurgical diseases is as widely varied as the discipline itself. The very eclectic nature of these emergent and urgent conditions continually challenges the skills obtained during the long neurosurgery residency training period, demanding not only broad knowledge and evolving technical skills, but pre-, intra-, and postoperative clinical judgment that can take a lifetime to master—all for the goal of improving patient outcomes.
Appreciation of this weighty task must be coupled with the idea that "learning" in neurosurgery is a decidedly visual pursuit. Neurosurgeons-in-training study anatomic representations, dissect cadavers, and observe their mentors in the operating room. With clinical experience and knowledge acquisition, there eventually comes the ability to translate the written words in a textbook into mental images, or to imagine one's way—step-by-step and with variations—through a procedure before entering the operating theater.
The true value of a surgical atlas, then, lies in the presentation: the telling of a procedure in pictures. Historically, atlases have been designed to guide the learner through interventions in a stepwise fashion. In 1960, James Leonard Poppen, MD, published his famed atlas entitled, An Atlas of Neurosurgical Techniques. This tome presented procedures in diagrammatic fashion — useful to any neurosurgeon beginning to hone his or her craft. In that spirit, and in the spirit of great surgical atlases such as Zollinger's Atlas of Surgical Operations, we have set out to create a similar volume devoted to emergency neurosurgical procedures.
This book was written for neurosurgeons-in-training, as well as for those already in practice who desire to meet the challenge of whatever comes into the emergency department. Critical care practitioners may also find this book beneficial to understanding the surgical management of neurologic conditions that will demand their medical expertise in the postoperative period.
The book is divided into six sections. Section I (Chapters 1-10) covers the basic procedures that form the bread and butter of cranial neurosurgery for trauma and stroke, including craniotomies for intra- and extra-axial hematoma, management of penetrating injuries, and decompressive craniectomy. Excellent, comprehensive reviews of neuromonitoring and management of neurovascular injuries complement these chapters.
Section II (Chapters 11-18) focuses on spinal emergency procedures—both traumatic and nontraumatic. The important role of early surgery for acute traumatic spine and spinal cord injuries is increasingly recognized; several chapters are devoted to operative management of these injuries. While open procedures still predominate in the emergency management of these entities, the increasing application of minimally invasive techniques in this setting cannot be ignored. Chapter 16 outlines the minimally invasive approach to thoracolumbar trauma. Nontraumatic emergencies, including epidural spinal compression and cauda equina syndrome, are also addressed.
Section III (Chapters 19-22) discusses the surgical management of nontraumatic emergencies including spontaneous intracranial hemorrhage, intracranial infection, pituitary apoplexy, and the ever-haunting ventricular shunt malfunction. While the sequelae of aneurysmal rupture sometimes require emergent surgical intervention, definitive management often is undertaken more electively within a 12- to 72-hour period. The technique of aneurysm clipping is the subject of several important tomes and is beyond the general scope of this atlas. Similarly, while surgery for ruptured arteriovenous malformations is often deferred for a period of time to permit resorption of hemorrhage, patients may present with life-threatening acute bleeds that necessitate emergent intervention for relief of mass effect. These clinical scenarios are addressed in Chapter 19.
While only a select few neurosurgeons have participated in the theater of war, we felt it would be valuable to include a section addressing emergency interventions for neurologic injuries in combat (Section IV, Chapters 23 and 24). Key lessons learned over the past two decades of conflict have led to increased survival from these devastating injuries. With the looming threat of terrorism, we must be prepared to apply these techniques in civilian populations should the need arise.
Section V (Chapters 25-27) encompasses basic tenets of reconstructive surgery. The management of frontal sinus injuries requires a combination of acute care and reconstructive approaches. Any consideration of decompressive craniectomy would not be complete without a discussion of its natural consequence: the need for additional, mostly elective, surgery to restore the cranium to its original protective purpose. The information provided is designed to help the surgeon "finish the job."
Finally, Section VI (Chapters 28 and 29) considers concerns specific to the treatment of head and spinal injuries in the pediatric population, including steps for the reconstructive repair of leptomeningeal cysts. These chapters are designed to highlight key di fferences in the acute, and delayed, management of injuries in children as compared with adults.
The chapters follow a standardized format. Introductory commentary for each topic is followed by an accounting of indications for neurosurgical intervention and preprocedural considerations. The operative procedure forms the core of each section. For the reader's convenience, we designed this book to keep illustrations and procedural steps in close proximity. In addition, many steps are repeated across chapters (with variation) to keep most of the chapters self-contained. Many of the procedural steps are accompanied by "pearls"-additional wisdom from the subject experts, geared toward enhancing an operation's success and avoiding complications. Each chapter concludes with a discussion of postoperative management and special considerations relevant to that topic. References are kept to a minimum.
As the practice of neurosurgery is as much an art as it is a science, there will be nuances and approaches preferable to each individual surgeon, and there are often several ways to accomplish the same goal. The procedures outlined in this book represent the best practices of the various authors and can be modi fied based on surgeon experience, preference, and patient characteristics. And, although we have made every attempt to provide a comprehensive overview of the most commonly encountered emergency procedures, it is inevitable that other emergency conditions will arise that fall outside the scope of this project. It is our hope that the information presented in this book will serve as a platform upon which to build strategies for treating more complex or less common emergency presentations.
Книги на английском