ECG Success: Exercises in ECG Interpretation - Shirley A. Jones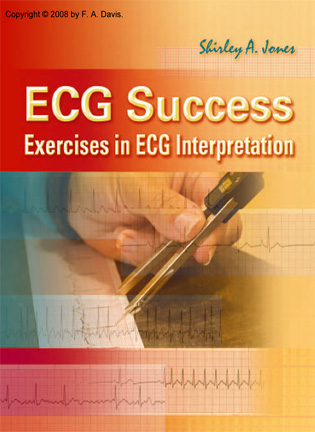 Год выпуска
: 2007
Автор
: Shirley A. Jones
Жанр
: Кардиология
Формат
: PDF
Качество
: OCR
Описание: No one is born knowing how to read ECG strips. We learn to do many things in a lifetime, and nearly all of them get better with practice. If you're planning to use this book, ECG isn't completely new to you — you have a good idea of what's involved in generating and interpreting a tracing.
ECG Success covers all the information you will need — anatomy and physiology, practice, and case scenarios, and relevant emergency care — to help you feel competent and in control, whether the situation involves an emergency or just a nonthreatening ECG. This book has staying power. You will find its content useful across a spectrum of situations, from classroom study through clinical experience and later in actual practice.
Pattern recognition lies at the heart of ECG interpretation. This skill develops with experience, gained through repetition and variety. You need to see the same patterns over and over again, but you also need to see as great a diversity as possible. In ECG Success you'll find more than 550 ECG tracings.
The book is organized into four units. First, two introductory chapters review the background information you need for working with ECG. Chapter One discusses heart anatomy and physiology, including biomechanics and electrophysiology. Chapter Two gives you the basics of ECG: limb and chest leads, electrode placement, cable connections, components of a tracing, rhythm strip analysis, and more.
In Unit Two, seven chapters explain and illustrate the different types of rhythm, some dangerous, others merely troublesome, and a few even normal. Each of these chapters gives you a group of nine practice strips to analyze, with the answers given at the end of the chapter. All types of arrhythmias are discussed and illustrated: sinus, atrial, junctional, and ventricular; atrioventricular and bundle branch blocks; artifact; and artificial pacemaker rhythm. The section ends with a chapter on myocardial infarction and the 12-lead ECG.
The chapter practice strips will warm you up for Unit Three, the working core of the book. You'll find four test chapters with a total of 300 strips and the answers given at the end of each chapter so you can check your work. In case you're hungry for more, the two chapters in Unit Four comprise eleven real-life case studies, followed by multiple-choice questions and illustrated by more ECG strips. Four appendices round out the book: Healthcare Provider Guidelines for Cardiopulmonary Resuscitation, Advanced Cardiac Life Support Protocols, Emergency Medications, and Emergency Medical Skills.
As you page through this book you'll find some special features to guide you. In Units One and Two, frequent Clinical Tips provide valuable information on how an arrhythmia can affect the patient. Hints on rhythm interpretation appear throughout the first practice strip chapter.
I couldn't have written this book without building up a track record of my own ECG successes. The secret: I had a good instructor who was patient and explained everything in detail. She kept emphasizing that we had to follow every step when analyzing a rhythm; shortcuts are dangerous because you can miss critical details on the rhythm strip. Then we had to practice, practice, practice. That repetition, combined with careful attention to every step, was the real key to my success.
Take your time now, and use ECG Success to improve your skills. Once you run into a genuine emergency you will have only minutes, or less, to interpret the ECG correctly and ensure the right treatment for the patient.
---
Contents
«ECG Success: Exercises in ECG Interpretation»
Heart Structure and Electrical Activity
ANATOMY AND PHYSIOLOGY OF THE HEART
Anatomy of the Heart

Layers of the Heart
Heart Valves
Heart Chambers and Great Vessels
Coronary Vessel Circulation

Anatomy of the Cardiovascular System

Blood Vessel Structures
Arterial Circulation
Venous Circulation

Physiology of the Hear

Mechanical Physiology
Electrophysiology
THE ELECTROCARDIOGRAM
Limb Leads
Standard Chest Leads
Cable Connections
Electrode Placement Using a Three-wire Cable
Electrode Placement Using a Five-wire Cable
Modified Chest Leads
The Right-sided 12-Lead ECG
The 15-Lead ECG
Recording of the ECG
Components of an ECG Tracing
Methods for Calculating Heart Rate
Rhythm Strip Analysis
Instructions for Analyzing ECG Practice and Test Strips
Rhythms and Their Analysis
SINOATRIAL NODE ARRHYTHMIAS
Normal Sinus Rhythm (NSR)
Sinus Bradycardia
Sinus Tachycardia
Sinus Arrhythmia
Sinus Pause (Sinus Arrest)
Sinoatrial (SA) Block
ECG Practice Strips
Answers to Chapter
ATRIAL ARRHYTHMIAS
Wandering Atrial Pacemaker (WAP)
Multifocal Atrial Tachycardia (MAT)
Premature Atrial Contraction (PAC)
Atrial Tachycardia
Supraventricular Tachycardia (SVT)
Paroxysmal Supraventricular Tachycardia (PSVT)
Atrial Flutter
Atrial Fibrillation
Wolff-Parkinson-White (WPW) Syndrome
ECG Practice Strips
Answers to Chapter
JUNCTIONAL ARRHYTHMIAS
Junctional Rhythm
Accelerated Junctional Rhythm
Junctional Tachycardia
Junctional Escape Beat
Premature Junctional Contraction (PJC)
ECG Practice Strips
Answers to Chapter
VENTRICULAR ARRHYTHMIAS
Idioventricular Rhythm
Accelerated Idioventricular Rhythm
Premature Ventricular Contraction (PVC)
Premature Ventricular Contraction: Uniform
Premature Ventricular Contraction: Multiform
Premature Ventricular Contraction: Ventricular Bigeminy
Premature Ventricular Contraction: Ventricular Trigeminy
Premature Ventricular Contraction: Ventricular Quadrigeminy
Premature Ventricular Contraction: Couplets
Premature Ventricular Contraction: R on T Phenomenon
Premature Contraction: Interpolated PVC
Ventricular Tachycardia (VT): Monomorphic
Ventricular Tachycardia (VT): Polymorphic
Torsade de Pointes
Ventricular Fibrillation (VF)
Pulseless Electrical Activity (PEA)
Asystole
ECG Practice Strips
Answers to Chapter
ATRIOVENTRICULAR AND BUNDLE BRANCH BLOCKS
First-degree AV Block
Second-degree AV Block: Type I (Mobitz I or Wenckebach)
Second-degree AV Block: Type II (Mobitz II)
Third-degree AV Block
Bundle Branch Block (BBB)
ECG Practice Strips
Answers to Chapter
ARTIFICIAL CARDIAC PACEMAKERS
Artificial Pacemaker
Pacemaker Modes
Understanding Pacemaker Codes
Artificial Pacemaker Rhythm
Single-chamber Pacemaker Rhythm—Atrial
Single-chamber Pacemaker Rhythm—Ventricular
Dual-chamber Pacemaker Rhythm—Atrial and Ventricular
Pacemaker Malfunctions
Failure to Capture
Failure to Sense
Oversensing
ECG Practice Strips
Answers to Chapter
ARTIFACT
Loose Electrical Connection
Variation with Respiration
60-cycle Interference
Muscle Artifact
ECG Practice Strips
Answers to Chapter
THE 12-LEAD ECG AND ACUTE MYOCARDIAL INFARCTION
Troubleshooting ECG Problems
R Wave Progression
Electrical Axis Deviation
Ischemia, Injury, and Infarction
Progression of an Acute Myocardial Infarction
ST Segment Elevation and Depression
The Normal 12-lead ECG
Anterior Myocardial Infarction
Inferior Myocardial Infarction
Lateral Myocardial Infarction
Septal Myocardial Infarction
Posterior Myocardial Infarction
Left Bundle Branch Block
Right Bundle Branch Block
ECG Practice Tests
ECG PRACTICE TEST ONE
Test Strip Section One
Answers to Practice Test One
ECG PRACTICE TEST TWO
Test Strip Section Two
Answers to Practice Test Two
ECG PRACTICE TEST THREE
Test Strip Section Three
Answers to Practice Test Three
ECG PRACTICE TEST FOUR
Test Strip Section Four
Answers to Practice Test Four
Case Studies
ECG CASE STUDIES ONE
Case Study One
Case Study Two
Case Study Three
Case Study Four
Case Study Five
Answers to Case Study One
Answers to Case Study Two
Answers to Case Study Three
Answers to Case Study Four
Answers to Case Study Five
ECG CASE STUDIES TWO
Case Study One2
Case Study Two
Case Study Three
Case Study Four
Case Study Five
Case Study Six
Answers to Case Study One
Answers to Case Study Two
Answers to Case Study Three
Answers to Case Study Four
Answers to Case Study Five
Answers to Case Study Six
Appendices
Appendix A: HEALTHCARE PROVIDER GUIDELINES FOR CARDIOPULMONARY RESUSCITATION (CPR)
CPR Healthcare Provider Skill Performance
CPR: Adult
CPR: Child
CPR: Infant
OBSTRUCTED AIRWAY: Conscious Adult or Child
OBSTRUCTED AIRWAY: Conscious Infant
OBSTRUCTED AIRWAY: Unconscious Adult
OBSTRUCTED AIRWAY: Unconscious Child
OBSTRUCTED AIRWAY: Unconscious Infant
CPR and Obstructed Airway Positions
Appendix B: ADVANCED CARDIAC LIFE SUPPORT PROTOCOLS
Ventricular Fibrillation (VF) or Pulseless Ventricular Tachycardia (VT)
Pulseless Electrical Activity (PEA)
Asystole
Acute Coronary Syndrome (ACS)
Bradycardia
Tachycardia — Unstable
Narrow-complex Tachycardia — Stable Regular Rhythm
Narrow-complex Tachycardia — Stable Irregular Rhythm
Wide-complex Tachycardia — Stable Regular Rhythm
Wide-complex Tachycardia — Stable Irregular Rhythm
Appendix C: EMERGENCY MEDICATIONS
Appendix D: EMERGENCY MEDICAL SKILLS
Defibrillation
Cardioversion (Synchronized)
Transcutaneous Pacing
Carotid Sinus Massage (Vagal Maneuver)
Abbreviations Used in Text
Selected References
Книги на английском