Milady's Standard Cosmetology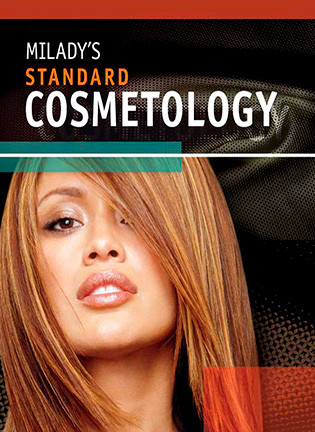 Год выпуска
: 2008
Автор
: Milady
Жанр
: Книги на английском
Формат
: PDF
Качество
: OCR
Описание: Congratulations! You are about to start on a journey that can take you in many directions and holds the potential to make you a confident, successful professional in cosmetology. As a cosmetologist, you will become a trusted professional, the person your clients rely on to provide them with ongoing service, enabling them to look and feel their best. You will become as personally involved in your clients' lives as their physicians or dentists are, and with study and practice, you can be as much in demand as a well-regarded medical provider.
Milady's Standard Textbook of Cosmetology was the creation of Nicholas F. Cimaglia, founder of Milady Publishing Company, which he established 80 years ago, in 1927. He began his career in the beauty business as a salesman for a beauty supply distributor, selling his book, the New York State Barbering Exam, along with hair tonics and razors, door to door to barber shops in New York City. In 1938, Nick Cimaglia published the first edition of Milady's Standard Textbook of Cosmetology, and it has since been the textbook of choice for cosmetology education, undergoing many revisions.
Throughout its lifetime, it has consistently been the most-used cosmetology textbook in the world. With the many changes in the field of cosmetology, new editions of the text are needed periodically, and Milady is committed to making it the best cosmetology educational tool available.
THE INDUSTRY STANDARD
This edition of Milady's Standard Cosmetology provides you with the information you will need to pass the licensure exams as well as the most contemporary techniques to ensure your success once you are on the job. Before beginning this revision, Milady surveyed hundreds of educators and professionals, held focus groups, and received in-depth comments from dozens of reviewers to learn what needed to be changed, added, or deleted. Next we consulted with educational experts to learn the best way to present the material, so that all types of learners could understand it and remember it. Then we went to several experts in various cosmetology-related fields to write or revise the chapters. Finally, we sent the finished manuscripts to yet more subject experts to ensure the accuracy and thoroughness of the material. What you hold in your hands is the result.
Milady's Standard Cosmetology contains new information on many subjects, including sanitation and infection control, and haircoloring. As a part of your cosmetology education, this book will serve as a valuable guide, and you'll refer to it again and again throughout your career.
FEATURES OF THIS EDITION
In response to the suggestions of the cosmetology educators and professionals who reviewed the Milady's Standard Cosmetology and to those submitted by the students who use this text, this edition includes many new chapters. We've aligned our core textbooks so that information appearing in any book that is also in another text, whether it be cosmetology, nail technology, or esthetics, now matches from one book to another.
Milady has also dramatically changed the design of the textbook to reflect the innovative and unique energy and artistry found in a career within the beauty business and we've included new photography and illustrations to bring you the most valuable, effective educational material available.
To get the most out of the time you will spend studying, take a few minutes first to learn about the textbook and how to use it before you begin. Use the Preface information that follows as a guide to lead you through the special features the textbook provides to help you learn, understand, and retain the important information within.
---
Contents
«Milady's Standard Cosmetology»
PREFACE
The Industry Standard
Features of This Edition
New Organization and Chapters
Elements of This Edition
Other Elements
Extensive Learning/Teaching Package
CONTRIBUTING AUTHORS
ACKNOWLEDGMENTS
Reviewers
Photography Credits
ORIENTATION
HISTORY & CAREER OPPORTUNITIES

Brief History of Cosmetology
Career Paths for a Cosmetologist
A Bright Future

LIFE SKILLS

The Psychology of Success
Managing Your Career
Goal Setting
Time Management
Study Skills
Ethics
Personality Development and Attitude

YOUR PROFESSIONAL IMAGE

Beauty and Wellness
Looking Good
Your Physical Presentation

COMMUNICATING FOR SUCCESS

Human Relations
Communication Basics
The Client Consultation
Special Issues in Communication
In-Salon Communication
GENERAL SCIENCES
INFECTION CONTROL: PRINCIPLES & PRACTICES

Regulation
Principles of Infection
Principles of Prevention
Disinfection Procedures
Universal Precautions
The Professional Salon Image

GENERAL ANATOMY AND PHYSIOLOGY

Why Study Anatomy?
Cells
Tissues
Organs and Body Systems
The Skeletal System
The Muscular System
The Nervous System
The Circulatory System
The Endocrine System
The Digestive System
The Excretory System
The Respiratory System
The Integumentary System

SKIN STRUCTURE & GROWTH

Anatomy of the Skin
Maintaining Skin Health

NAIL STRUCTURE & GROWTH

The Natural Nail
Nail Anatomy
Nail Growth
Know Your Nails

PROPERTIES OF THE HAIR & SCALP

Structure of the Hair
Chemical Composition of Hair
Hair Analysis
Hair Growth
Hair Loss
Disorders of the Hair
Disorders of the Scalp

BASICS OF CHEMISTRY

Chemistry
Matter
Potential Hydrogen (pH)

BASICS OF ELECTRICITY

Electricity
Electrical Equipment Safety
Electrotherapy
Other Electrical Equipment
Light Therapy
HAIR CARE
PRINCIPLES OF HAIR DESIGN

Philosophy of Design
Elements of Hair Design 
Principles of Hair Design 
Influence of Hair Type on Hairstyle 
Creating Harmony between Hairstyle and Facial Structure
Designing for Men
Client Consultation: Sample Dialogue

SHAMPOOING, RINSING, & CONDITIONING

Understanding Shampoo
Conditioners
Brushing the Hair
Scalp Massage
Shampoo Procedures

HAIRCUTTING

Basic Principles of Haircutting
Client Consultation
Tools, Body Positions, and Safety
Basic Haircuts 
Other Cutting Techniques
Clippers and Trimmers

HAIRSTYLING

Client Consultation
Wet Hairstyling Basics
Finger Waving
Pin Curls
Roller Curls
Comb-Out Techniques
Hair Wrapping
Blow-Dry Styling
Thermal Hairstyling
Thermal Hair Straightening (Hair Pressing)
Styling Long Hair

BRAIDING & BRAID EXTENSIONS

Client Consultation
Understanding the Basics 
Braiding the Hair 

WIGS & HAIR ENHANCEMENTS

The Consultation 
Wigs
Hairpieces 
Hair Extensions

CHEMICAL TEXTURE SERVICES

The Structure of Hair
The Client Consultation 
Permanent Waving 
Chemical Hair Relaxers 
Curl Re-Forming (Soft Curl Permanents) 

HAIRCOLORING

Why People Color Their Hair 
Hair Facts
Identifying Natural Hair Color and Tone 
Types of Haircolor
Consultation 
Selecting Haircolor
Haircolor Applications 
Using Lighteners 
Using Toners 
Special Effects Haircoloring
Special Challenges in Haircolor/Corrective Solutions
Haircoloring Safety Precautions
SKIN CARE
SKIN DISEASES & DISORDERS
HAIR REMOVAL

Client Consultation
Permanent Hair Removal 
Methods of Temporary Hair Removal 

FACIALS

Skin Analysis and Consultation 
Determining Skin Type 
Skin Care Products
Client Consultation
Facial Massage 
Electrotherapy and Light Therapy 
Facial Treatments
Aromatherapy 

FACIAL MAKEUP

Cosmetics for Facial Makeup
Makeup Color Theory
Basic Makeup Application
Special-Occasion Makeup 
Corrective Makeup
Artificial Eyelashes
Safety Precautions 
NAIL CARE
NAIL DISEASES & DISORDERS

Nail Disorders 
Nail Diseases 

MANICURING

Nail Technology Supplies 
Choosing a Nail Shape 
Basic Manicure
French and American Manicures 
Conditioning Oil Manicure 
Performing a Man's Manicure
Paraffin Wax Treatment 
Hand and Arm Massage 
Spa Manicure 
Aromatherapy 

PEDICURING

Pedicure Tools 
Performing Pedicures
Foot Massage
Beyond the Basic Pedicure

NAIL TIPS, WRAPS, & NO-LIGHT GELS

Nail Tips 
Nail Wraps 
No-Light Gels 

ACRYLIC (METHACRYLATE) NAILS

"Liquid and Powder" Nail Enhancements 
Acrylic (Methacrylate) Nail Enhancements Using Forms
Maintenance and Removal of Acrylic (Methacrylate) Nail Enhancements
Odorless Acrylic (Methacrylate) Products
Colored Acrylic (Methacrylate) Powders

UV GELS

Application of UV Gel Nail Enhancements
Maintenance and Removal of UV Gel Nail Enhancements
BUSINESS SKILLS
SEEKING EMPLOYMENT

Preparing for Licensure
Preparing for Employment
Doing It Right

ON THE JOB

Moving from School to Work
Out in the Real World
Managing Your Money
Discover the Selling You
On Your Way

THE SALON BUSINESS

Going into Business for Yourself
Operating a Successful Salon
Selling in the Salon

IN CLOSING

Use Your Time Wisely
Form Good Habits
Seek Mentors
Explore the Possibilities
Learn the Business
Continue to Learn
Книги на английском