Clinical assessment of voice - Robert Thayer Sataloff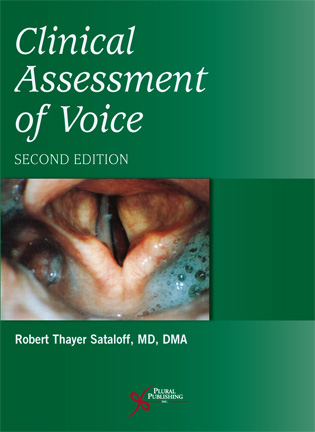 Год выпуска
: 2017
Автор
: Robert Thayer Sataloff
Жанр
: Книги на английском
Формат
: PDF
Качество
: OCR
Описание: Dr. Robert Sataloff has devoted his professional career to the care and treatment of the voice. He was a professional singer and singing teacher before he began his medical career. Dr. Sataloff's dedication to the voice stems from his personal love and active involvement in singing and vocal pedagogy. His medical and scientific interests in the voice developed during his residency as his musical colleagues solicited his medical advice. Much to his surprise, he learned that there was not much written about the care of the voice, especially aspects of the singer's voice. So he pursued a fellowship in otology knowing how important the ear is to the voice. While completing that fellowship his interest in voice surged to a point that he chose to pursue the study of voice with such a force that he has become the most prolific writer of voice books for laryngologists, speech-language pathologists and voice teachers. In 1977, he began attending the meetings of the Voice Foundation in New York City. His enthusiasm grew until he focused his primary interest in the development of new approaches for medical surgical and behavioral management of voice disorders. With the support and influence of people such as Drs. Wilbur J. Gould, Friederic Brodnitz, Hans von Leden, and Paul Moore, among others, he combined his love for the voice and his medical practice into a premier center for the care of professional singers and other vocal performers from all over the world. His clinical practice and pursuit of knowledge led him to publish his first paper on professional singers in 1981 entitled, "Professional Singers: The Science and Art of Clinical Care" and the first chapter on modern voice care in an otolaryngology textbook in 1986. He eventually became Chairman of the Board of Directors of the Voice Foundation in 1989 where he has since championed the need for interdisciplinary voice care through the annual Symposium on Care of the Professional Voice sponsored by the Voice Foundation and the monthly publication of the Journal of Voice of which he is currently Editor-in-Chief.
Gifted as a surgeon and skilled in the art of expression, whether it be through his singing or his lecturing, Dr. Sataloff has taken the humble beginnings of the Voice Foundation and has made its influence felt around the world by physicians, speech-language pathologists, singing teachers, and vocal performers of all types from reggae to opera and from rap poets to the highest profile public speakers. In addition, Dr. Sataloff has trained many of the most influential laryngologists who specialize in the care of the professional voice. A cursory review of any program from the Voice Foundation's Symposium on Care of the Professional Voice attests to his influence in all aspects of voice care.
In Clinical Assessment of Voice, Second Edition, one of three student editions derived from chapters selected for speechlanguage pathology students and clinicians from the fourth edition of Professional Voice: The Science and Art of Clinical Care, Dr. Sataloff brings together a dynamic group of professionals who share his interdisciplinary philosophy of voice care that he has espoused for over 30 years. This volume is up to date with an international core of authors from varied disciplines, all actively engaged in the diagnosis and treatment voice disorders.
Clinical Assessment of Voice, Second Edition, includes chapters written by individuals with specialties in laryngology, vocal coaching and teaching of singing, voice science, and speech-language pathology, nursing and acoustics. This volume mirrors the state of the art of voice care in the 21st century.
Throughout this book, we are reminded of the interdisciplinary care that is required in the assessment of voice disorders. All aspects of voice assessment are presented in a coherent fashion. Starting with an extensive case history and following with the physical examination, the objective documentation in the voice laboratory, and the latest diagnostic imaging with laryngeal computed tomography and strobovideolaryngoscopy, the chapters delineate the possible diagnoses and treatment approaches that currently represent the state of the art in assessment of voice disorders. Added is the current information on the medical legal evaluation, now ever more important for the professional performer.
For the practicing otolaryngologist and speech-language pathologist, Clinical Assessment of Voice, Second Edition is an essential guide for understanding the techniques for proper diagnosis and for organizing a plan of treatment for patients with voice disorders. For singers and performers, knowledge of the clinical voice assessment process is presented in a manner that allows them to determine what level of assessment they should pursue in search of the most current treatment.
Every effort has been made to maintain style and continuity throughout the book. Clinical Assessment of Voice, Second Edition brings together the generous knowledge of renowned colleagues, merged with the continuity of a seasoned editor, making this book not only a classic in voice diagnostics but an enjoyable book to read and understand the marvelous complexity of the human organ known as the voice.
---
Clinical Assessment of Voice is part of a three-book student edition of selected chapters from the fourth edition of Professional Voice: The Science and Art of Clinical Care. That compendium fills over 2000 pages, including 120 chapters and numerous appendices, and it is not practical for routine use by students. However, Professional Voice was intended to be valuable to not only laryngologists, but also to speech-language pathologists, voice teachers, performers, students, and anyone else interested in the human voice. Clinical Assessment of Voice and other volumes of the student edition were prepared to make relevant information available to students in a convenient and affordable form, suitable for classroom use as well as for reference.
Chapter 1 reviews the information sought when taking a history on a patient with a voice complaint, and it includes introductory information on the meaning of many of the abnormal symptoms that patients reported. 
Chapter 2 provides insights into specific information that should be added when evaluating actors with voice complaints. 
Chapter 3 introduces the concepts and techniques used in physical examination of voice patients. 
Chapter 4 has been rewritten extensively. It includes not only basic concepts in laboratory evaluation, but also our most recent practices regarding instrumentation and test protocols. It also reviews techniques such as measurements of cepstral peak prominence, as well as updated references on validity and reliability of clinical voice measures. 
Chapters 5 and 6 are new. In Chapter 5, Dr. Echternach expands extensively on the basic information presented in chapter 4 about high-speed digital imaging. 
Chapter 6 provides an overview of the evolution of technology over more than a century, and its influence on the development of laryngology. 
Chapter 7 on laryngeal electromyography includes clinical and technical information on this increasingly important test. 
Chapter 8 reviews Dr. Eiji Yanagisawa's techniques for laryngeal photography, including all of the specific information that readers require to replicate his success. 
Chapter 9 reviews remarkable developments in computed tomography technology that were developed in France to provide color images that might almost be mistaken for histologic sections. It represents the state-of-the-art in imaging. 
Chapter 10 is new. It does not address commonly known technology for clinical use of MRI. Rather, it provides extraordinary insight into lesser-known MRI capabilities and their potential for expanding basic knowledge and clinical care of the voice. 
In Chapter 11, Benninger and his colleagues have updated their pioneering work on measuring voice treatment outcomes. 
Chapter 12 provides a brief overview of common medical diagnoses and treatments of patients with voice disorders, reducing information that occupies entire chapters in Professional Voice to a paragraph or two.
Chapter 13 has also been updated and expanded extensively. It contains a discussion of a large number of studies on the aging voice that were not addressed in previous editions. 
Chapter 14 is new. While pediatric voice disorders are not discussed in detail in previous editions, this chapter adds not only differential diagnosis and treatment, but also suggestions on imaging of children, which can be challenging. 
Chapter 15 on hearing loss has been updated to include a review of the last literature. 
Chapter 16 on endocrine function has been rewritten and contains the latest information on topics covered in the previous edition, as well as topics that have not been addressed in prior voice literature. 
Chapter 17 is new. Thyroid surgery is extremely common and can have devastating consequences for voice professionals. This chapter reviews thyroid disorders and their many potential adverse effects. 
Chapter 18 covers various aspects of psychological assessment and treatment of patients with voice disorders. 
Chapter 19 (Allergy), and Chapter 20 (Respiratory Dysfunction) required only moderate revisions to bring them up to date. 
Chapter 21 contains substantial new information on topics such as World Trade Center Syndrome and laryngeal effects of asbestos exposure. 
Chapter 22 discusses Infectious and Inflammatory Disorders of the Larynx and contains substantial new information and the most recent references. 
Chapter 23 on laryn-geal papilloma highlights the importance and complexity of managing this complex disorder, as well as its apparently increasing prevalence. This revision contains the most current information on this challenging topic. 
Chapter 24 on sleep science and the importance of sleep in vocal performers has been rewritten almost completely by different authors and provides valuable insights unfamiliar to most otolar-yngologists and speech-language pathologists, but extremely important to performers, especially those who travel extensively. 
Chapter 25 includes extensive new information on laryngopharyngeal reflux, diagnosis, treatment, and research. It cites almost 600 references including literature written since publication of the last edition, as well as classic literature that was written previously. 
Chapter 26 on bodily injuries and their effects on the voice has been revised only slightly, but Chapter 27 on performing arts-medicine has some particularly important additions. It includes a brief discussion on visual arts hazards (painting, sculpting, etc) and their implications for voice performance.
Chapter 28 reviews many of the neurological disorders that can affect the voice. 
Chapter 29, on vocal fold paresis and paralysis, includes the latest concepts in diagnosis and treatment, as well as discussions of laryngeal reinnervation and laryngeal pacemakers. 
Chapter 30 not only reviews the most current literature on spasmodic dysphonia, but also specifies our current practices regarding clinical and laboratory diagnosis, as well as treatment. 
Chapter 31 describes many of the structural abnormalities that may afflict the larynx and helps the students understand the differences between lesions such as nodules, cysts, and polyps. 
Chapter 32 includes discussions of impairment, disability and handicap; proposals for equitable disability calculation including case examples; and the role of voice care professionals in medical-legal matters.
Every effort has been made to maintain style and continuity throughout the book. Although the interdisciplinary expertise of numerous authors has been invaluable in the preparation of this text, contributions have been edited carefully, where necessary, to maintain consistency of linguistic style and complexity; and I have written or co-authored 29 of the 32 chapters. All of us who were involved with the preparation of this book hope that readers will find it not only informative but also enjoyable to read.
---
Contents
«Clinical assessment of voice»
Patient History
Special Considerations Relating to Members of the Acting Profession
Physical Examination
The Clinical Voice Laboratory
High-Speed Digital Imaging
Evolution of Technology
Laryngeal Electromyography
Laryngeal Photography and Videography
Laryngeal Computed Tomography
Magnetic Resonance Imaging of the Voice Production System
New Dimensions in Measuring Voice Treatment Outcomes and Quality of Life
Common Medical Diagnoses and Treatments in Patients With Voice Disorders: An Introduction and Overview
The Effects of Age on the Voice
Pediatric Voice Disorders
Hearing Loss in Singers and Other Musicians
Endocrine Function
The Vocal Effects of Thyroid Disorders and Their Treatment
Psychological Aspects of Voice Disorders
Allergy
Respiratory Dysfunction
Pollution and Its Effects on the Voice
Infectious and Inflammatory Disorders of the Larynx
Laryngeal Papilloma
Sleep and the Vocal Performer
Reflux and Other Gastroenterology Conditions That May Affect the Voice
Bodily Injuries and Their Effects on the Voice
Performing Arts Medicine and the Professional Voice User: Risks of Nonvoice Performance
Neurologic Disorders Affecting the Voice in Performance
Vocal Fold Paresis and Paralysis
Spasmodic Dysphonia
Structural Abnormalities of the Larynx 
Voice Impairment, Disability, Handicap, and Medical-Legal Evaluation
Appendix I
Patient History: Singers
Patient History: Professional Voice Users
Appendix II
Reading Passages
Laryngeal Examination
Appendix III
Sample Laryngologist's Report
Strobovideolaryngoscopy Report
Objective Voice Analysis and Laryngeal Electromyography
Speech-Language Pathologist's Report
Singing Voice Specialist's Report
Acting Voice Specialist's Report
Glossary
Книги на английском