Atlas of Dermatopathology - Gunter Burg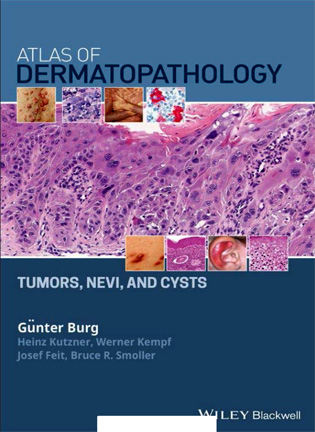 Год выпуска
: 2019
Автор
: Gunter Burg, Heinz Kutzner, Werner Kempf, Josef Feit, Bruce R. Smoller
Жанр
: Dermatology
Формат
: PDF
Качество
: OCR
Описание: In tumorous processes, the typical cytomorphology and growth pattern assessed by histological examination are the major hallmarks of correct diagnosis. Therefore, this text-atlas, in 13 wellillustrated chapters, presents the major cytomorphological elements of the skin, and describes the histological characteristics of epidermal and organoid nevi, hamartomas and tumors of the epidermis, adnexal structures, melanocytic lesions, and tumors of connective tissue, vessels, fat, muscles, nerves, mast cells, histiocytes, and hematopoietic cells, i.e. lymphomas and leukemias. In addition to the histology, the clinical features and differential diagnoses (DD:) are presented for each entity. As cysts may be clinically misdiagnosed as tumorous lesions, a chapter on cysts has been added for differential diagnostic purposes.
The text of the clinical features (Cl:) is given in prose form, whereas the description of the histological features (Hi:) follows the approved bullet point style in order to keep the information as compact and concise as possible.
Some of the diagnoses listed lack clinical or histological pictures.
Even though we have tried to cover most common diagnoses, the book is far from being comprehensive. Many variants of tumors described in the literature are waiting to be included in the next edition and may be studied in special books dealing with distinct adnexal, vascular, soft tissue, hematopoietic or other neoplasias.
---
Differential diagnosis is at its most accurate and efficient when clinical presentation and histopathological features are considered in correlation with one another. With this being so, the expert team behind this atlas has integrated both perspectives to create an innovative and essential resource for all those involved with the diagnosis of tumors, cysts, and nevi. Almost 1,400 full-color images clearly illustrate common patterns and variants of tumorous lesions of the skin and are helpfully contextualized by concise, straightforward descriptions of key features and diagnostic clues.
Whether they are aspiring or experienced practitioners, dermatologists and pathologists of all levels will find this an insightful and practically applicable addition to their bookshelf. Its far-reaching and easy-to-navigate coverage of relevant diseases of the skin provides trainees with an excellent grounding in the area, while practicing specialists may benefit from its use as a tool for the differential diagnoses of borderline cases.
Atlas of Dermatopathology: Tumors, Nevi, and Cysts offers a uniquely balanced, clear, and comprehensive guide to what can be a difficult process, and will be of tremendous assistance tostudents, dermatologists, dermatopathologists, and pathologists everywhere.
---
Contents 
«Atlas of Dermatopathology: Tumors, Nevi, and Cysts»
EPIDERMIS
Nevi
Keratoses
Acanthomas, Non-Viral
Acanthomas, Viral
"Pseudocarcinomas" and Neoplasms with Intermediate Malignant Potential
Malignant Epidermal Neoplasms
ADNEXAL
Sweat Gland Differentiation
Sebaceous Differentiation
Hair Follicle Differentiation
Pilosebaceous Mesenchyme
PAGET'S DISEASE
MELANOCYTES
Non-Neoplastic Hyperpigmentations
Nevi
Malignant Melanocytic Neoplasms
Common Clinical Differential Diagnoses of Malignant Melanoma
CONNECTIVE TISSUE
Nevi
Fibrous Neoplasms
Malformations with Supernumerary Tissue Elements
Fibrohistiocytic Neoplasms
Miscellaneous Tumors
VESSELS
Hamartomas, Nevi, and Malformations
Capillary Malformations
Venous Malformations
Arteriovenous Malformations
Lymphatic Malformations
Angiokeratomas
Hyperplasias
Benign Vascular Neoplasms
Vascular Neoplasms of Intermediate Malignant Potential
Vascular Neoplasms with High Malignant Potential
Other Neoplasms with Significant Vascular Component
Kimura's Disease
FAT
Nevus (Hamartoma)
Neoplasms of Fat Tissue
MUSCLE
Benign Neoplasms
Malignant Neoplasms
NERVES
Benign Neoplasms
Malignant Neoplasms
Neuroendocrine Neoplasm
MAST CELLS
Solitary Cutaneous Mast Cell Proliferation
Diffuse Cutaneous Mast Cell Proliferations
Systemic Mast Cell Proliferation
HISTIOCYTES
Langerhans Cell Histiocytoses (LCH)
Non-Langerhans Cell Histiocytoses
HEMATOPOIETIC DISORDERS 
Lymphoid Skin Infiltrates
Pseudolymphoma (PL)
Cutaneous Mature T-Cell Lymphoid Neoplasms (CTCL)
Cutaneous Mature B-Cell Lymphoid Neoplasms (CBCL)
Intravascular Lymphomas
Secondary Skin Involvement in Leukemias/Lymphomas
Immature Hematopoietic Malignancies
Precursor Lymphoblastic Leukemia/Lymphoma
CUTANEOUS CYSTS
Cysts with Epithelial Lining
Cysts without Epithelial Lining (Pseudocysts)
Книги на английском