Clinical Neuroanatomy - Brain Circuitry and Its Disorders - Hans J. ten Donkelaar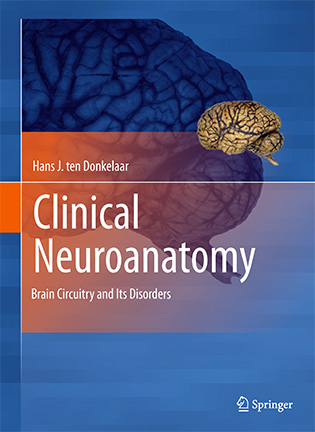 Год выпуска
: 2011
Автор
: Hans J. ten Donkelaar
Жанр
: Neuroanatomy
Формат
: PDF
Качество
: OCR
Описание: During the last decade, there have been tremendous technical developments to study the human central nervous system (CNS) and its connectivity. Modern imaging techniques such as positron emission tomography (PET) and functional MRI (fMRI) have greatly improved our knowledge of the circuitry of the human CNS. New developments in MR imaging such as diffusion tensor imaging (DTI) allow the visualization of at least the major fibre connections in the human CNS. Much of our knowledge of the organization of the CNS, however, we still owe to the classic studies of Vicq d'Azyr, Edinger, Dejerine, Flechsig, Brodmann, the Vogts, Foerster and many others, anatomists as well as neurologists, who painstakingly examined fresh and later fixed brains and laid down the framework for the main circuits in the human brain and spinal cord.
Knowledge of how the various parts of the CNS are interconnected to form functional systems is a prerequisite for the proper understanding of data from other fields in the neurosciences. Connections define the functions of neurons. Information flows along connections, growth factors and also viruses are transported along connections, epileptic discharges are spread through connections, and when they are deprived of connections, neurons pine away and may die through retrograde degeneration (dying back degeneration) or through anterograde transneuronal degeneration. Neuronal death in amyotrophic lateral sclerosis, spinocerebellar disorders and various intoxications, the distribution of neurofibrillary tangles in Alzheimer disease and atrophy in olivopontocerebellar degeneration progress through neuronal connections. Parkinson disease may begin in the caudal brain stem, years before affecting the substantia nigra, and then it progresses rostrally to reach limbic and cortical areas. The basal nucleus of Meynert and the extended amygdala are involved in some of the most devastating neuropsychiatric disorders such as schizophrenia and Alzheimer disease.
This book is on brain circuitry ("systems anatomy") and its disorders. It tries to bridge the gap between neuroanatomy and clinical neurology and emphasizes human and primate data in the context of the many disorders of brain circuitry so common in neurological practice. The idea for this book arose when I moved from the Department of Anatomy and Embryology to the Department of Neurology, both of the Radboud University Nijmegen Medical Centre. This resulted in a fruitful collaboration with neurologists and especially the neuropathologists Pieter Wesseling and Martin Lammens. George Padberg and Berry Kremer made this project possible. I am grateful to Anthony Lohman, Rudolf Nieuwenhuys, Jan Voogd and Antoine Keyser for their support during my academic career from comparative and developmental neuroanatomy to clinical neuroanatomy. This book contains some of the fine, but sparse, anterograde degeneration studies on fibre connections in the human brain by Hans Kuypers, Jaap Schoen, William Mehler and Peter Nathan.
Throughout the book, "Clinical cases" are included to illustrate where normal brain circuitry may be interrupted and to what effect. These cases were kindly provided by clinical colleagues, neurologists, neuroradiologists and neuropathologists or, when exceptional, taken from the literature. Contributions were provided by the co-authors of the various chapters, Peter van Domburg and Akira Hori in particular, and by, among others, Anna Cantagallo (Ferrara), Anna Lavezzi (Milan), Luigi Mossuto-Agatiello (Rome), Emmanuel Pierrot-Deseilligny (Paris), Maria Thom and John Rothwell (London), Ferdinand Binkofski (Lubeck), Bernhard Bogerts (Magdeburg), Heiko Braak and Kelly Del Tredici-Braak (Ulm), Adrian Danek (Munich), Peter Urban (Hamburg), Arnulf Koeppen (Albany), Tom Scammell (Boston), Ralph Adolphs (Iowa City), Suzanne Corkin (Cambridge, MA), Nancy Rempel-Clower (Grinnell), Maya Mimuro and Mari Yoshida (Aichi), Hiroyasu Akatsu (Toyohashi), Ryuji Sakakibara (Toho), Hiroaki Yaguchi and Ichiro Yabe (Sapporo), Erwin van Ingelghem and Michel van Zandijcke (Brugge), Gea Drost, Myrthe Hol, Hennie Schoonderwaldt, Nens van Alfen, Frank Erik de Leeuw, Jurgen Schelhaas, Henk ter Laak, Henri Timmers and Gert van Dijk (Nijmegen), Jan Geelen (Nijmegen/Enschede), Gerard van Noort (Enschede), Gerald Hengstman (Eindhoven), Rob Haaxma (Paterswolde), Nomdo Jansonius and Lars Rodiger (Groningen), Berit Verbist and Enrico Marani (Leiden), Jan Voogd (Oegstgeest), Maria van Genderen (Zeist), Majid Aramideh (Alkmaar), Henk Berendse and Ysbrand van der Werf (Amsterdam), Hanmtte Verzijl and Dirk Pevernagie (Heeze), Jan Zijlmans (Breda) and Olaf Schijns (Maastricht).
Macroscopical pictures of the brain were kindly provided by Arie Maat (Nijmegen) and most of the MRIs of normal anatomy by Ton van der Vliet (Groningen). Several illustrations were obtained from the Jelgersma Collection of the Anatomical Museum of Leiden University Medical Centre with the help of Andries van Dam. Ugur Ture (Department of Neurosurgery, Yeditepe University Hospital, Istanbul) provided his excellent preparations of long association fibre bundles and Uli Burgel (Department of Neurosurgery, Antonius Hospital, Kleve) provided several excellent DTIs on these tracts. Other figures were contributed by Martin Cassell (Iowa City), Marcella Brunetti (Chieti) and Thomas Theelen (Nijmegen). Financial support came from the Department of Neurology of the Radboud University Medical Centre (Head: George W.A.M. Padberg), covering part of the costs of the illustrations. Most of the illustrations were made by Ad Gruter (Nieuwegein) and several were contributed by Chris van Huijzen (Nijmegen) and the late Marlu de Leeuw (Nijmegen). Michel Verbruggen (Nijmegen) was invaluable in the processing of the figures. The book contains three general, introductory chapters on the organization and vascularization of the human brain and spinal cord (Chaps. 1 and 2) and on techniques for studying brain circuitry (Chap. 3). Brain circuitry and its disorders are discussed in the chapters on neurofunctional systems: the somatosensory system (Chap. 4), the reticular formation (Chap. 5), the cranial nerves (Chap. 6), the auditory system (Chap. 7), the visual system (Chap. 8), motor systems (Chap. 9), the cerebellum (Chap. 10), the basal ganglia (Chap. 11), the autonomic nervous system (Chap. 12), the hypothalamus and hypothalamohy-pophysial systems (Chap. 13), the limbic system (Chap. 14) and the cerebral cortex and complex cerebral functions (Chap. 15). The book is intended primarily for neurologists, neuroradiologists and neuropathologists as well as residents in these fields, but may also be useful for all those working in human brain mapping.
---
«Clinical Neuroanatomy: Brain Circuitry and Its Disorders»
Overview of the Human Brain and Spinal Cord
Macroscopy of the Brain
The Meninges, the Intracranial Compartments and the Liquor Circulation
The Spinal Cord
The Brain Stem
The Cerebellum
The Diencephalon
The Telencephalon
Vascularization of the Brain and Spinal Cord
A Few Notes on the Development of the Blood Supply of the Brain
Gross Anatomy of the Vessels of the Brain and the Spinal Cord
Vascular Imaging
Arterial Supply of the Cerebral Cortex
The Circle of Willis and Its Perforating Branches
Ischaemic Stroke
Arterial Supply of the Capsula Interna and the Basal Ganglia
Arterial Supply of the Thalamus
Arterial Supply of the Cerebellum
Arterial Supply of the Brain Stem
Arterial Supply of the Spinal Cord
Venous Drainage
Notes on Techniques
Tissue-Staining Techniques
Tract-Tracing Techniques
Immunohistochemical Techniques
Electrophysiological Techniques
Non-invasive Imaging Techniques
The Somatosensory System
Receptors and Peripheral Pathways
The Large-Fibred Dorsal (Posterior) Column-Medial Lemniscus Pathway
The Small-Fibred Sensory Pathways in the Ventral Quadrant
The Trigeminal Somatosensory System
The Reticular Formation and Some Related Nuclei
Cytoarchitecture, Subdivision and Organization of the Reticular Formation
Monoaminergic Nuclei
Cholinergic Cell Groups
Fibre Connections of the Reticular Formation
Sleep and Wakefulness
Some Sleep Disorders
Disorders of Consciousness
The Cranial Nerves
A Few Notes on the Development of the Brain Stem
The Oculomotor, Trochlear and Abducens Nerves
Eye Movements
The Trigeminal Nerve
The Facial Nerve
The Gustatory System
The Vestibulocochlear Nerve
The Glossopharyngeal, Vagal and Accessory Cranial Nerves
The Hypoglossal Nerve
The Auditory System
The Cochlea and the Cochlear Nerve
The Brain Stem Auditory System
The Forebrain Auditory System
The Descending Auditory System
The Visual System
Anatomy and Imaging of the Visual System
The Visual Cortex
The Retinogeniculocortical Pathway and Typical Visual-Field Defects
The Extrastriate Visual Cortex and Abnormalities of Complex
Motor Systems
The Peripheral Motor System
Gait and Posture
Central Control of Movement
The Cerebellum
A Few Notes on the Development of the Cerebellum
Gross Morphology, Subdivision and Compartmentalization
The Deep Cerebellar Nuclei
The Cerebellar Peduncles
Cerebellar Afferent Connections
Cerebellar Output: Motor and Cognitive Channels
Cerebellar Dysfunction
Ataxia: Pathophysiology and Clinical Aspects
The Cerebellar Cognitive Affective Syndrome
Basal Ganglia
Subdivision, Cytoarchitecture and Basic Circuitry
Functional Basal Ganglia Connections
Pathophysiology of Basal Ganglia Disorders
Neuropathology of Basal Ganglia Disorders
The Autonomic Nervous System
Peripheral Components of the Autonomic Nervous System
Central Components of the Autonomic Nervous System
The Hypothalamus and Hypothalamohypophysial Systems
Anatomical Organization
Fibre Connections
Hypothalamohypophysial Pathways
Functional Organization of the Hypothalamus
The Limbic System
The Concept of the Limbic System
The Olfactory System (The Rhinencephalon)
The Basal Forebrain
The Amygdala
Anatomy of Neuropsychiatric Disorders
The Hippocampus
Memory and Memory Disorders
Neuroanatomy of AD
The Cerebral Cortex and Complex Cerebral Functions
Cortical Maps
The Isocortex
Corticocortical Projections
Hemispheric Differences
Language and the Brain
Disconnection Syndromes
The Neuroanatomical Basis of Cognitive Impairment in the Primary Degenerative Dementias
купить
 книгу:
Гости не могут просматривать скрытый текст. Для скачивания и просмотра книги необходимо зарегистрироваться на сайте
Книги на английском