Color atlas of ultrasound anatomy - Berthold Block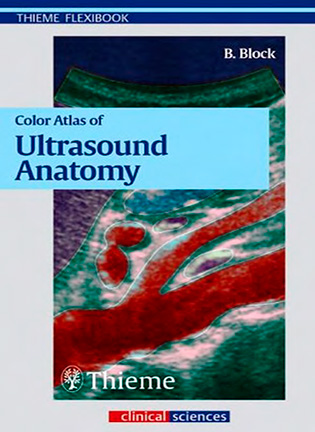 Год выпуска
: 2004
Автор
: Berthold Block
Жанр
:
Diagnostics
Формат
: PDF
Качество
: OCR
Описание: Ultrasound scanning yields a series of sectional images. The basis for interpreting the examination is the individual sectional image. At first sight, it is easy to be confused by the variable appearance of an ultrasound scan of the same region in different patients. This has numerous causes, including differences in density, body fat, age-related differences, overlying gas, and artifacts. In most cases the apparent discrepancies are not based on true anatomical differences. When a systematic scanning routine is closely followed, series of sectional images can be obtained in every patient with remarkable consistency. Even if the images themselves vary, the anatomical relationships that are demonstrated remain constant.
While some excellent atlases have been published on computed tomography and magnetic resonance imaging, it is curious that no one (to the author's knowledge) has taken the trouble to create a similar atlas of sectional anatomy for abdominal ultrasound. The present atlas attempts to fill this gap. In particular, the author hopes to provide the beginner with a comprehensive guide to the initially confusing world of sonographic anatomy.
Many have helped in the creation of this book. I wish to thank Dr. Hartwig Schondube and Dr. Matthias Geist, who gave me some scans. I also thank Mrs. Stephanie Gay and Mr. Bert Sender of Bremen for their superb rendering of the illustrations. I am also grateful to the staff at Thieme Medical Publishers for enabling me to make this book a reality, with special thanks to Dr. Antje Schonpflug, Mrs. Marion Holzer, and, of course.
---
Contents 
«Color atlas of ultrasound anatomy»
Aorta
Iliac artery

Celiac trunk

Hepatic artery

Splenic artery

Left gastric artery

Superior mesenteric artery

Right renal artery

Left renal artery
Vena cava
Left hepatic vein

Middle hepatic vein

Right hepatic vein

Right renal vein

Left renal vein

Iliac vein

Portal vein

Splenic vein

Superior mesenteric vein
Right lobe of liver
Left lobe of liver

Quadrate lobe

Caudate lobe

Ligamentum teres

Ligamentum venosum

Lateral segment

Medial segment

Anterior segment

Posterior segment
Gallbladder
Fundus of gallbladder

Body of gallbladder

Neck of gallbladder

Infundibulum

Spiral folds

Bile duct

Cystic duct
Pancreas
Head of pancreas

Body of pancreas

Tail of pancreas

Uncinate process

Pancreatic duct
Spleen
Right kidney
Left kidney

Renal cortex

Renal columns

Pyramids

Renal pelvis

Ureter

Adrenal gland
Stomach
Fundus of stomach

Body of stomach

Antrum of stomach

Cardia

Duodenal bulb

Duodenum

Small bowel

Right colic flexure

Left colic flexure
Bladder
Opening of ureter

Urethra

Prostate

Seminal vesicle

Uterus

Vagina

Right ovary

Left ovary

Rectum
Spinal column
Symphysis pubis

Acoustic shadow

Gas

Artifact

Psoas muscle

Diaphragm

Pelvic bone

Heart
Thyroid gland
Sternohyoid muscle

Sternothyroid muscle

Sternocleidomastoid muscle

Omohyoid muscle

Internal jugular vein

Common carotid artery

Tracheal cartilage
Книги на английском