Cytopathology in Oncology - Ritu Nayar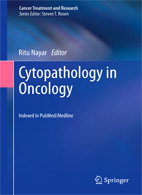 Год выпуска
: 2013
Автор
: Ritu Nayar
Жанр
: Цитология в онкологии
Формат
: PDF
Качество
: Отсканированные страницы
Описание: Cytopathology, a branch of pathology that studies and diagnoses diseases at the cellular level, was founded by Rudolf Virchow in 1858. The first cytopathology test, the Pap (anicolaou) test for screening and diagnosis of cervical cancer, was developed over 50 years ago and has proven to be not only the most successful screening test in medical history, but also the most effective global cancer reduction program. Since the development of the Pap test, the practice of cytopathology has expanded greatly to include samples from nearly all body sites which can be acquired during a range of procedures such as centesis, endoscopy, and fine needle aspiration. Cytologic sampling is minimally invasive, time efficient, and provides accurate, actionable information in the hands of qualified cytopathologists.
As expertise in cytopathology has developed and advances have occurred in medicine and oncology, the relationship between oncologist and cytopathologist has become exceedingly important for tumor diagnosis, prognostication, and targeted therapy selection. Cytopathologists are often the first physicians to make a diagnosis: adequacy assessment and triage for appropriate ancillary testing can be performed intraprocedurally by cytopathology in order to ensure that the specimen can provide the appropriate information required for the patient's management. In addition to fine needle aspiration, touch preparation assessment from thin-core biopsies has increasingly become a part of specimen acquisition.
To ensure a good working relationship between oncologist and cytopathologist and to maximize the value of cytopathology in patient care, each should have a basic understanding of one another's needs. In this text which is targeted toward our clinical colleagues, particularly those taking care of oncology patients, we aim to provide an overview of the basic principles of cytologic diagnosis at various body sites. We hope you will find it to be a useful reference for your practice.
---
С
ontents of the book Cytopathology in Oncology
Overview of Cytopathology Procedures and Techniques
M. Ivanovic
Ancillary Studies on Neoplastic Cytologic Specimens
Y. Gong
Head and Neck
Jose Dutra and Ajit Paintal
Cytology of the Lung
Sara Zydowicz, Anjana Yeldandi and Kirtee Raparia
Liver Cytology
Deborah J. Chute, Marc Sarti and Kristen A. Atkins
Esophagus, Stomach, and Pancreas
Xiaoqi Lin and Srinadh Komanduri
Genitourinary Cytopathology (Kidney and Urinary Tract)
G?liz A. Barkan and Eva M. Wojcik
Body Cavity Fluids
Michael J. Thrall
Cytopathology in the Diagnosis of Lymphoma
Yi-Hua Chen and Yun Gong
Female Genital Tract
Rosemary Tambouret
Beyond the Standard of Care: The Role of Cytopathology in Molecular Testing of Cancer
Peter Kulesza
купить
 книгу:
Гости не могут просматривать скрытый текст. Для скачивания и просмотра книги необходимо зарегистрироваться на сайте
Книги на английском